Welcome to Canby, "The Gateway to the Prairie". We are the westernmost city in Yellow Medicine County. We sit in the center of a broad-flat valley from which can be seen the Coteaux des Prairies in South Dakota. Canby is located at the junction of U.S. Highway 75 (The King of Trails) and State Highway 68. We invite you to visit our great community and take advantage of all we have to offer. If you are looking for quality of life, this is the place. 
Pay YOUr BILL Online with our secure payment portal.
Learn more about things to do and places to see in Southwest MN by visiting Prairie Waters.
Visit the City of Canby's page on Prairie Waters.
Olson Sanitation Recycling 2023
Forms, Applications & Permits
Proposed body worn camera Policy
February 9, 2023 Public Comment Sought for County's Hazard Mitigation Plan Yellow Medicine County has completed an updated draft of the of its Hazard Mitigation Plan (HMP) and is now seeking public feedback. Like all Minnesota counties, Yellow Medicine County is...
Yellow Medicine County Press Release September 7, 2021 Public Input Wanted as County Updates Multi-Hazard Mitigation Plan The Yellow Medicine County Office of Emergency Management is working with U-Spatial at the University of Minnesota Duluth to update the county's...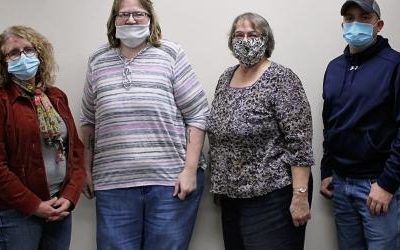 The newly elected and reelected members of the Canby City Council were sworn in during our first 2021 meeting on January13th. Pictured (L-R): Diana Fliss, Denise Hanson, Mayor Nancy Bormann, and Alex Renaas. Council member Dillan Meyer was absent.